With the proper Indian jewelry in the USA, you may highlight your style, look fantastic, and feel authentic and excellent. On the other hand, the incorrect jewelry, depending on what you wear it with, can make you appear weird and uneasy.
More people than ever own jewelry today. Every year, people spend billions of dollars on jewelry worldwide, especially at special events. Buying Indian jewelry online is always easy, but what if you need to match the jewelry with outfits?
Well, to buy matching jewelry with your Indian attire or dress, we have mentioned some tips for our readers that would mitigate the trouble of choosing the right kind of jewelry.
5 Tips To Get The Best Indian Jewelry For Your Traditional or Western Outfit
Dress-Up Necklines
The focal point of accessories is necklaces. The neckline of your dress, shirt, t-shirt, or blouse must match the neckline of the chain.
A V or Y-shaped pendant looks fantastic on a neckline with a V shape. The charm will draw attention to your face when worn with coordinating earrings. A tiny pendant with thin chains or an ornamented locket will look fantastic on a square neck.
Without a necklace, cowls and turtlenecks look terrific. But, if you must wear a necklace, one with many pendants or several layers of necklace will look beautiful. A low-hanging pendant will also look great with a jewel neckline, an off-the-shoulder style, and a boat neckline.
Just like V-shaped necklines, heart necklines complement pendant necklaces. But you can altogether dispense with the chains if you decide to wear drop earrings. Last but not least, round necklines look great with pearl or beaded necklaces.
Color of Jewelry and Outfits
The color of the jewelry can make or break your overall looks. So, it is right to say that color is equally crucial. Almost all dresses with neutral colors like white, black and gray go well with silver or gold jewelry. You can follow the jewelry trend nowadays; women love to buy contrast color jewelry with their dresses.
For more tips on how to coordinate your jewelry with your outfit, check out the infographic below!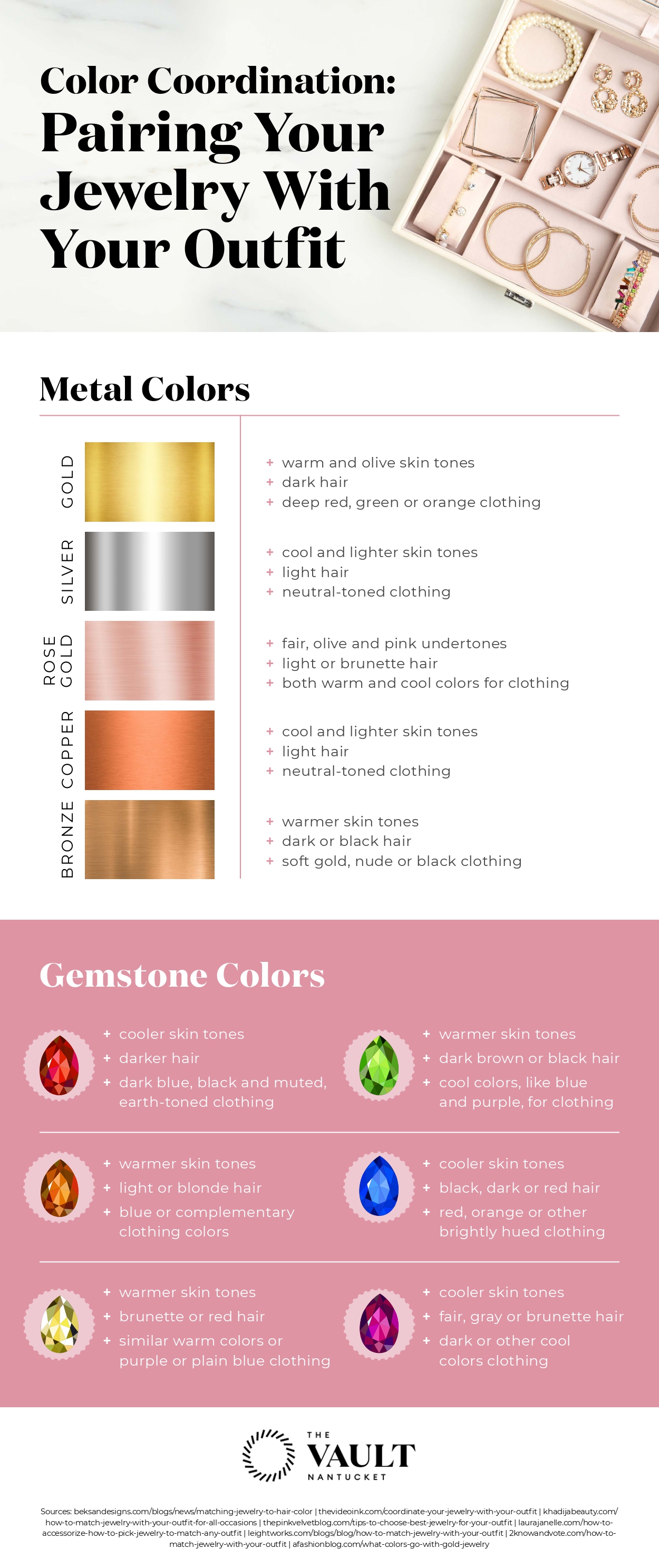 Infographic provided by The Vault Nantucket, a curator of luxury rings for women
Scale is Significant
Your jewelry should be the right size for your attire. Extremely tiny jewelry sometimes remains hidden and there are chances that no one may not even notice it. On the other hand, colossal jewelry may dominate your dress and sometimes look pretty weird and clumsy. So, think about your purpose for wearing it and with which dress.
Simple, little jewelry items go well with shining dresses or heavy ones. Stud earrings and short pearl necklaces are appropriate to wear in this case. Big jewelry looks good with plain clothing or dresses with less work or embroidery.
You can accessorize your plain shirt and jeans-pant outfit with chunky bracelets or bib necklaces. Yet, you can pair modest, understated jewelry with straightforward, monochromatic clothing to create a formal or conservative style.
Consider Your Skin Tone
Undoubtedly, you will look fabulous if your jewelry matches your attire. Yet wearing jewelry that compliments your clothes and skin tone will help you seem better.
Artificial gold jewelry warm skin tones for persons with darker hair, while silver is an excellent option for emphasizing the most extraordinary complexion tones.
But feel free to play around with the look. Go for it if your vibes are open to wearing something unusual.
Match Like a Pro
Don't be afraid of experimenting with many looks to find the ideal dress and jewelry combination. With practice and the advice mentioned above, you'll become an expert at accessorizing. You must always take the occasion into account to avoid wearing bulky bracelets when using a computer all day.
Be Confident In Your Choice
Define your way of choosing jewelry and matching it with your outfits. Your personal style influences jewelry selection. It establishes the guidelines for using accessories. The accessories you choose will also depend on the style of your dress and the situation.
Simple jewelry, such as stud earrings and a simple necklace, might help you project a professional image. A pearl necklace and diamond earrings will make a statement if you wear a more traditional appearance at a formal event.
If you want to create an edgy style, try big jewelry; if you're going to make a glamorous image, wear bib necklaces and chandelier earrings.
Thus concluded, Amazel Designs hopes this information will help you choose the best artificial jewelry online.